Parts
Laser
Coherent Chameleon Vision (A, below). Specs are here
Core Microscope
Sutter MOM (Moveable Objective Microscope).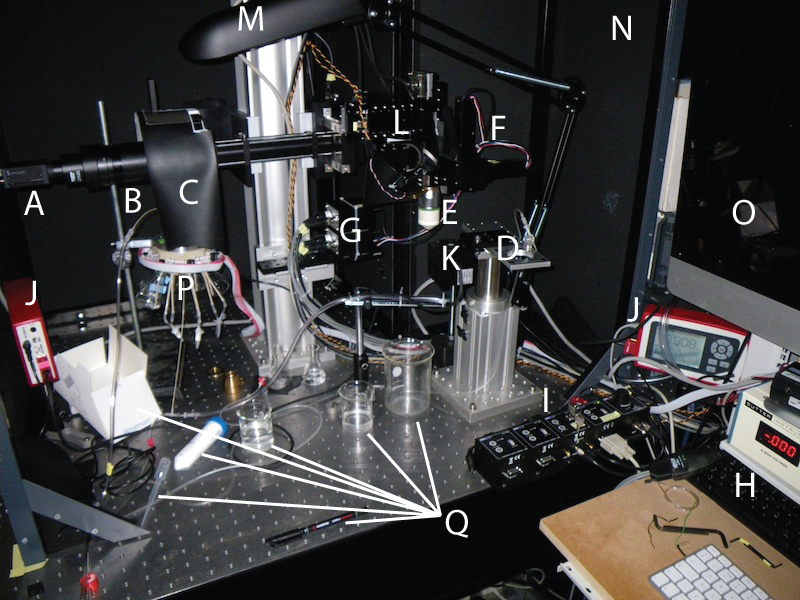 Fluorescence path

Olympus tube lens (B)

Olympus epi-fluorescence path (from BX51) (C)

Mirrors of MOM core (L)

Objective lens (variable) (E)

Two-photon detection path

Objective lens (E)

Dichroic mirror in MOM core (L)

Hamamatsu PMTs (and collection optics) (F)

Hamamatsu pre-amps (G)

Other

PMT Power supply (H)

iMac (O)

Power meters (J)

Power sensor (K)

Stage (D)

Cage light (M)

Cage (N)

Thorlabs cubes (for controlling half-wave plate, fluorescence LED, and shutter (I)

Odour presentation manifold (P)

Aaron's junk (Q)
Scan System
Fast scan 6mm mirrors (Cambridge 6215) and scanner driver electronics (includes two Cambridge Technologies 671XX-HP Micromax scanner driver boards)
PMTs
Hamamatsu H7422 P40-MOD unprotected GAsP PMTs (Hamamatsu part number, H10770PB-40 SEL) and Hamamatsu C3719 pre amps. The power supply is labeled "Sutter PS-2" but it looks suspiciously like two Hamamatsu model C3830 supplies piled into a Sutter box. I can't find any info on the PS-2, but the Hamatsu specs are here or here. This is just a guess on my part, so if you are really fussed about these specs, it would probably be best to contact Sutter.
Other Parts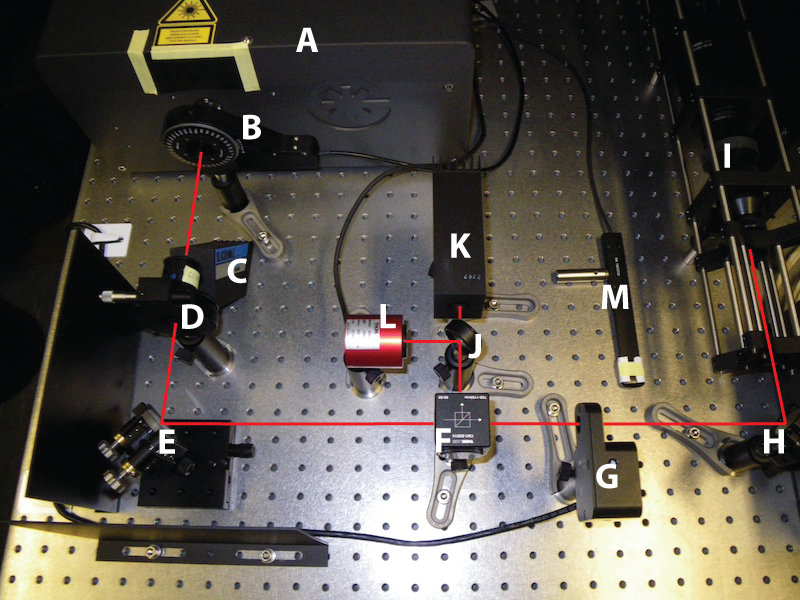 Filters/dichroic for detection

Table

Newport Smart Table UT2 with IQ Damping Technology

Attenuation

Thorlabs (WPH05M) rotating half-wave plate (B) and fixed (GL10-B) Glan-Laser polariser (D) to control beam intensity

Non-polarising (Thorlabs CM1-BS014) 50:50 beam splitter (F) to divide the beam

Variable (Thorlabs BE02-05-B) beam expander (I) to control objective (over/under) filling

Power measurement

J beam sampler (reflected portion is angle dependent - currently around 3%)

L Power meter

note that you need to re-calibrate the linear relationship between power meter reading and power at the objective back aperture if you

knock/realign J

put telescope in

Shutters

Thorlabs SH05 (G) This shutter is normally opened by scanImage during a run. Additionally, it is connected to an interlock on the shroud door, forced closed when the door is open.

Beam steering on table

Beam trap

PCs for control

Lenovo Thinkstation with NI DAQ board (NI 6110E) for ScanImage operation

iMac with Micromanager
Objectives
Software
Filters for PMTs
Alex set up the filter cube for the PMTs as below:
         RED CHANNEL
       *-------------*
       | HQ605/75 \/ |
   *---*-------------*   
G  |   |\*
R  | E | \*
E  | T |  \*
E  | 5 |   \*
N  | 2 |    \*
   | 5 |     \*
C  | / |      \*
H  | 7 |       \*
A  | 0 |        \*
N  |   |         \*
N  |   |          \*
E  | > |           \*
L  |   |            \*
   *---*
The filters are by Chroma and the arrows point towards the coated side.